It is no secret that Amazon is dominating the global shopping and services industry, they are one of the biggest companies worldwide. Amazon offers everything from yoga mats to books through their online shopping service as well as a streaming service on prime video and not to mention their Alexa and Echo products. A huge 25% of us are signed up to Amazon Prime in the UK and 90% of UK shoppers use the service – they truly are the big dogs of online retail! Amazon has continued to boom throughout the covid-19 pandemic and they have plans to hire 7000 new staff in the UK. Additionally, customer spending through Amazon has also increased during the pandemic – between May and June sales increased 60% compared to the previous year. So selling your products on Amazon puts you in front of a huge number of customers and is a no brainer, but how is it best to advertise your products through Amazon ads?
Amazon ads
Amazon's marketing services span a wide range of networks – you can advertise through voice on Alexa products, through video on its streaming service or through search on its shopping platform. We are going to focus on the ways you can advertise through Amazon's search and display network. 
Amazon's advertising services work a lot like Google's, you bid on specific keywords to boost the visibility of your product and appear high on the results page. You can set broad, phrase or exact keywords and are then charged each time a consumer clicks on your product. There are different ways to optimise your ads on Amazon and a number of ways to use bidding strategies to yield the highest ROI. 
What are the different types of Amazon ads?
1. Amazon Sponsored Products
Amazon's sponsored product ads allow users to bid on search terms and keywords to appear on the results page. They typically perform very well as they intermix with the organic search results but are boosted. To make the most of these ads you need to do your keyword research so that you are showing for relevant queries related to your product.
2. Amazon Headline Search Ads
These ads allow users to promote their products or brand along the top of the search results page. They are an effective tool for increasing sales as well as brand awareness as they show at the top of the search page. They also allow you to promote a range of products from one brand in the same ad. Again keyword research is key to ensure you are targeting the right queries.
3. Amazon Product Display Ads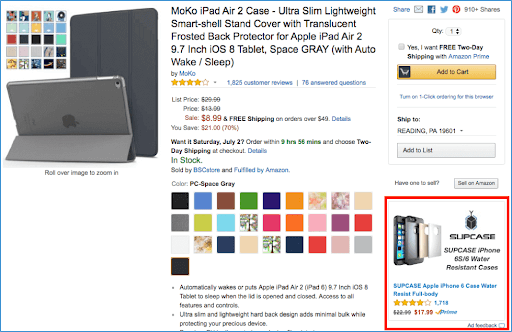 These ads are shown in the similar products section on the product pages. You can target these ads to competitors, similar products and the interests of shoppers. These ads will often get really high impressions, so are great for brand awareness. However, the conversion rate is typically lower and therefore the cost is also lower.
Why advertise on Amazon?
If you're selling products that consumers can buy online or are already selling products on Amazon then you should consider using Amazon ads. There are many benefits to using amazon's advertising services such as:
Improving visibility: Amazon ads will appear right in front of your customer on the first page of the results page, this allows shoppers to easily find your products.

Amazon's PPC approach: You only pay when one of your ads is clicked on and you can easily control your ad spend through setting a daily budget and through setting bids.

Grow your sales: Paid advertising through Amazon can help you grow your sales as they direct customers browsing for similar products to yours e.g. through the product display advertising option.

Data: You can track a variety of performance metrics to measure the success of your ad campaigns and then to make optimisations as necessary.
If you are hesitant to advertise on Amazon why not try setting up a campaign using one of your best performing products first? You can keep adding products to your campaign as you monitor how they perform and learn how best to optimise your Amazon PPC strategy. For any help or to get started with Amazon ads get in touch today – we are more than happy to help you out!